Monday, August 21, 2018 – Roy and I went to see Dr. Blessey in Covington for my post surgery visit last Friday and for Roy.
Roy has been experiencing some pain in the knee he had replaced almost three years ago and wanted to have Dr. Blessey check it out. They took an x-ray of Roy's knees.  The one he had surgery one looks fine and you can see the surgical implants in the xrays below.  It's not hurting Roy all the time, mostly in the morning or when he stands around for a while.  Dr. Blessey said it all looks okay right now.  Said something could be getting loose, or infected, or just nothing.  He said to come back if it consistently continues.
I got the last of the loose stitches from my knee surgery taken out by a young lady working in the office who allowed me to take pictures! I didn't get her name but she was very  nice!
I was told by Dr. Blessey that I'm doing really well, better than others at this stage. The home health staff have told me that, but it was especially nice to hear it
from my doctor.  He puts his patients on coumadin for three weeks starting the day before surgery.  Tuesday is my last day taking it.  I got checked on Monday by my nurse (Jana in the picture to the right) to make sure my coumadin level is not too high. I go back to see Dr. Blessey in four weeks.  I am so happy to be at this post surgery stage.
I have really liked having Jana and the Omni staff come to the house to work with me.  Jana and Brennan have been here the most.  If you ever get to choose what home health company to use, Omni is great!!
It will take months for me to be fully healed but my waddling and limping walk are pretty much history which helps my hip and everything feel better! Right now the only lingering thing is that my knee feels tired near the end of the day.  That's great compared to the pain I had before the surgery.
The two photos below are a side view and a front view what was put in my knee for a partial knee replacement.
I just found these two graphics which I feel really show the difference between a full knee replacement which Roy had in early 2016 and a partial which I just had.
FULL KNEE REPLACEMENT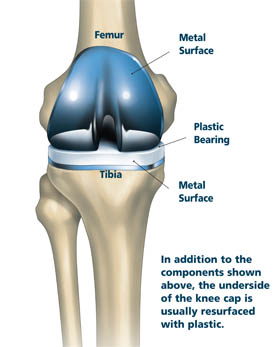 PARTIAL KNEE REPLACEMENT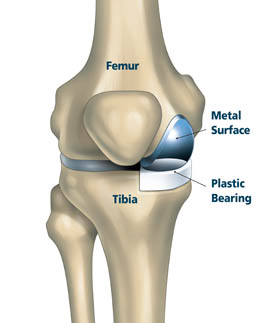 Dr. Blessey does the same type of advanced technology full knee replacement surgery as Dr. Schraeder in Tennessee does.  We are thankful some friends told us about Dr. Schraeder and for how well he took care of Roy in 2016.  Since we know that Dr. Blessey does the same thing I would highly recommend him as he is a local doctor in the Ochsner system.  Here's his contact information:
Ochsner Medical Center, 1000 Ochsner Blvd, Covington, LA 70433. Phone: (985) 875-2828
Roy had to park pretty far away from the building after he dropped me off at the door.  He saw this amazing's cool Ochsner mini football field next to the building.  You can see it first through the physical therapy windows and then when we got outside.  The Fleur de Lis was beautiful and we learned it is a 60-yard training field for sports medicine.
After the doctor's appointment we had a very nice visit with my sister Harriett and brother in law George at their house.  It's always great to spend time with them!
Ya'll come back now, ya' hear!
Click on the links below to go there!
Some Things I Learned About Dementia