Tuesday, February 9, 2016 – I love sharing
some of what makes New Orleans's Mardi Gras so unique.  Below you will see how New Orleanians mark their spots on the parade routes; a group of folks parading in Lazy Boy recliners; Endymion (one of the largest parades) ends its parade by going into the Superdome (2 videos of this); a documentary about Mardi Gras and New Orleans.  Last but certainly not least are the actual floats built by Blaine Kern's Mardi Gras World where most of the major floats are made.  This is New Orleans Mardi Gras.  I think next year I'll focus on the much more family friendly Metairie Mardi Gras.  Metairie is a city connected to New Orleans that has many parades during the season as well as a large parade and several "truck" parades on Mardi Gras Day!
How New Orleanians mark their spots on St. Charles Avenue for parades!
Lazy Boy parading!
Endymion Parade ending in the Superdome
Police motorcycle units entering the Superdome for ‪Endymion‬ parade.
Mardi Gras & New Orleans – A Documentary
Blain Kern's Mardi Gras World where most of the floats are created.
We wouldn't be true loyal Saints fans without showing you the additions to this year's Mardi Gras because of the horrific NO CALL by the blind referees in the Saint vs. Rams game this year that kept them out of the Super Bowl.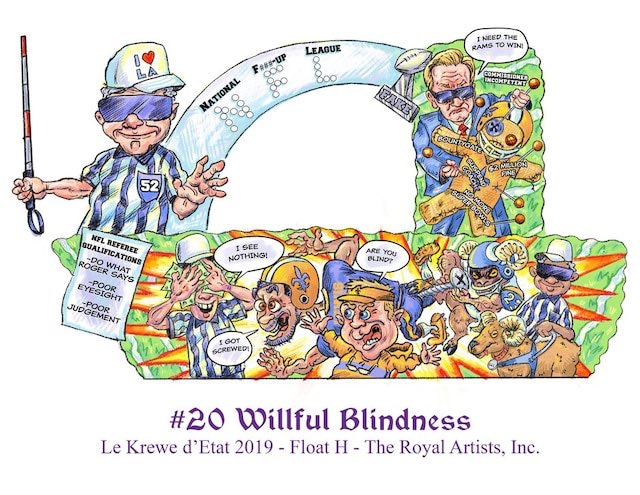 Happy Mardi Gras Everyone, from our little home in Amite where the Chauvin's are watching Mardi Gras on television like we've done for the last couple of decades.
Ya'll come back now ya' hear!!
Click on the links below to go there!
Wacky Wonderful Wednesdays published on Wednesdays
Some Things I Learned About Dementia published randomly